PCM manufactures a variety of nets recommended for bone-in meats. They incorporate a wide selection of patterns, smokes, spices and flavorings, all designed to improve strip and maximize yields.
Try our LU netting if you want a smooth surface and need to control the shape of your product. Or, if you are looking for a premium deli appearance, try one of our Hex, Diamond or Cube nets which are ideal if you like a patterned surface that creates a color differential on the finished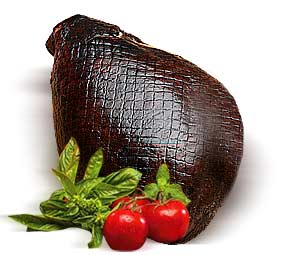 product.
All of PCM's bone-in ham nets can be treated with it's proprietary release agent(AGR-Zip), or a smoke based release agent formulated to your specific color preference. If you really want to set your product apart, ask us to incorporate some spices or flavorings to the net. Bone-in Nets are available in a variety of conversion options including; continuous, on mandrels, coreless mandrels, preclipped, preclipped/looped and on rolls.
PCM's bone-in nets are commonly used with whole smoked turkeys, spiral hams, picnics, semi-boneless hams, dry-cured hams, Canadian bacon, bone-in and boneless pork chops and roast beef.
Click

 to discuss your application or request samples.