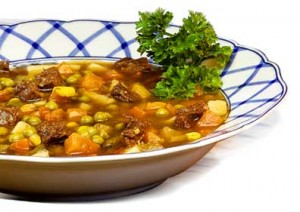 The growing consumer demand for pre-portioned packaged food extends beyond meats and entrees. Pre-packaged freezer-to-pot (or microwave) soups and sauces are extremely popular, as are prepackaged salads. The convenience of dropping a soup bag into a pot of boiling water is attractive to a variety of institutions like schools, hospitals, casinos, cruise lines or theme parks.
PCM produces a complete line of cook chill products, including soup and sauce bags that can be purchased in a variety of forms, including radius seals, handle sealed or clipped, to match your processes. All our rugged bags for cook chill products are designed to tolerate temperatures from -20°F to 210°F and are highly puncture resistant.
Our line of heavy-duty soup and sauce bags provide physical protection and high oxygen barriers, guaranteeing your soups, stews and sauces arrive in prime condition.